Professional Carpet Cleaning Machines
BUYERS GUIDE:
Professional Carpet Cleaning Machines
The carpet cleaning machines used by most professional carpet cleaners are called 'portable extractors'.
Cleans both heavily and lightly soiled carpets
Domestic and commercial cleans
Cleans both carpets and upholstery (including mattresses)
Deepest method of in-situ carpet and upholstery cleaning
The only carpet cleaning system that does all of the above
Used by the vast majority of professional carpet cleaners
What spec machine will I need for professional results?
What size pump will I need?
The pump sprays cleaning solution into the carpet. It is one of the most important components in the machine. On professional carpet cleaning machines, the pump pressure is normally rated in psi (pounds per square inch). 
Entry level pump systems (100 to 150psi)
For professional results, look for a machine with minimum 100psi pump pressure. This spec pump will clean to a professional standard. It's also lightweight and simple to use, with a simple on/off operation. 
Mid range pump systems (220 to 400psi pumps)
With a mid range pump you can clean faster, with fewer wand passes and less effort. The water pressure does more of the work for you.
These pumps should always be adjustable, because you will need to adjust the water pressure for different jobs. For example, you will need to turn the pressure down to around 100psi when using a hand tool – when cleaning stairs, edges, upholstery cleaning etc.
Top-spec pump systems
With the larger 600-800psi pumps, you can power-clean hard floors as well as cleaning carpets. The 600 and 800psi pumps are also the most durable pumps and handle longer hose runs better, with less pressure drop.
It is often be better to choose a pump with a little more pressure than you will normally use, because this puts less stress on the pump system and helps the pump last longer.
Top tip: The pumps on professional carpet cleaning machines are nearly always rated in psi. If you are looking at a machine and the pump pressure is rated in 'Bar' instead of 'psi', you can convert Bar to psi to get a direct comparison here
What vacuum system will I need?
The vacuum system pulls the cleaning solution, moisture and dirt out the carpet. The more powerful the suction, the more efficiently you can clean, the faster you can move the carpet tool (wand) and the faster the carpet will dry.
With more suction, you can also run longer hoses from the machine, with less of a drop in performance.
1 x 3-stage vac motor systems
1 x 3-stage vac motor: This means the machine has 1 x vac motor, and the motor has 3 x fan blades inside.
With 1 x 3-stage 1400 watt vac motor, you won't be able to run long extension hoses. This means you will likely need to move the machine around as you clean, or take it upstairs. 
We'd recommend a 10″ carpet wand, instead of the 12″ wand normally supplied with professional machines.
2 x 3-stage vac motors systems
This is pretty well the standard system that you will find on many professional carpet cleaning machines.
There are two vacuum motors and again, each motor has 3 x sets of fans inside.
A machine with 2 x 3-stage 1200 watt vac motors is the minimum we recommend for professional use. This system will run around 75ft to 100ft of hoses. This is more than enough hose to clean most homes without needing to move the machine around as you clean.
If you have the budget, it is most definitely worth going for a machine with 2 x 3-stage vac motors, as apposed to a machine with 1 x 3-stage motor. There's a big difference in performance, results and ease of use.
Also, if your machine has two vac motors, this means you can still finish the job if one of the vacuum motor fails half way through the job.
2 x 6.6″ vac motor systems
The top-of-the-range Airflex Storm and Miniflex HX machines have 2 x 6.6 vac motors, which give you approximately double the vacuum power.
You can clean much faster, move the wand much faster and get much faster drying times. You can also run very long hoses and even run these machines direct from the van, running 200ft of hoses.
The 6.6 vac motors are a newer design that are much more powerful, more electrically efficient and also designed to last 3 x longer (1500 hours).
Most operators use the Storm or the Miniflex HX as a portable machine, but running direct-from-the-van can save a lot of time setting up and packing away your machine each job, and may well mean you can fit an extra job into the day.
There's an optional auto-fill, auto-empty and remote control system. So you can use the machine while it's automatically feeding and emptying, without needing to keep going back to the machine.
What size carpet cleaning machine will I need?
The Airflex Pro and Storm are full size extractors with a 55 litre water tank. This will allow you to clean large areas without having to stop to empty and re-fill very often.
The Minflex LX and Miniflex HX are lighter, more compact and easier to handle, with a smaller 25 litre water tank. The 25 litre water tank will allow you to clean for around 45 minutes before you need to empty and refill.
The Miniflex machines are available with much the same specs as the bigger Airflex Pro and Storm machines, but with smaller tanks which makes the machine more compact, lighter and easier to handle.
Like for like, both sizes of machine will clean to exactly the same standard, so machine size usually comes down to your personal preference and the type of work you will be doing.
You will also need to think about the space you have to store the machine, the size of the vehicle it will need to fit into and the machine's weight: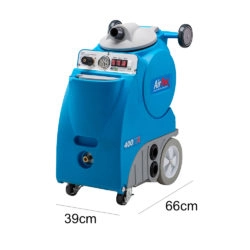 How heavy is the machine?
Make sure you check the weight of the machine – the lightest professional machine are around 30kg, but some carpet cleaning machines weigh over 80kg (about 12.5 stone!). 
You don't want to be stuck with a machine you can't get up the steps leading to the front door!
Also check how easily you can get the machine in and out your vehicle. Does the machine have loading wheels so you don't need to lift it into the van? If not, is the machine light enough to lift, or will you need to install a fold-down ramp?
Another option might be to run the machine direct from the van (so you run hoses from the van into the property you are cleaning and the machine stays in the van).
Look for large rear wheels also, which go up steps much more easily.
Do I need a water heater?
A water heater isn't essential, but will help you clean more efficiently – especially when cleaning greasy or heavily soiled carpets. There are two types of heater found in professional carpet cleaning machines:
1. Immersion heaters
An immersion heater heats the water in the machine's water tank. This takes quite a long time – as long as an hour on some machines! So, with an immersion heater, you have to fill the solution tank up and then wait for the water to heat up before you can start cleaning with hot water.
2. In-line 'instant' heaters
An inline heater heats the water as you clean, a bit like a combi boiler. So you don't have to wait for the water to heat up before you can start. Just turn our Magma heater on and you get steaming hot water almost straight away.
An inline heater is also better for the pump, because the water goes through the pump cold and then passes through the heater afterwards.
Don't forget, if you don't have a water heater, you can still put hot water in the machine from the customer's tap. You can always add a heater later. More info on heaters here
Can professional carpet cleaning machines be upgraded later?
If you are looking at an entry level machine, it's worth checking if it can be upgraded later.
For example, the 220psi pump in the Airflex Pro can easily be swapped out for a larger 400 or 800psi pump later. The Airflex Pro vacuum system can also be easily upgraded later by adding a Vac Booster POD.
How often will my machine need servicing?
At some point the machine is going to need servicing. Vac motors and pumps and pumps don't last forever (standard 3-stage vac motors are designed to last 500 hours, 6.6″ vacs (Airflex Storm or Miniflex HX) are designed to last 1500 hours). Pumptec recommend a pump service every 500 hours.
For servicing, will the machine need to be returned to the supplier, or does the supplier work with engineers that are more local to you?
What happens if the machine breaks down while it's under warranty? Will you be responsible for getting the machine back to the supplier?
Are all parts readily available from stock or might parts need ordering from another country? How easy is the machine to work on? If the machine has been designed with easy servicing in mind, this can reduce your servicing costs significantly.
What length of hoses do I need?
If you are going to be cleaning carpets in domestic properties, we'd recommend a minimum of 50ft of hoses. This will allow you to clean most houses without needing to take the machine upstairs. 75ft of hoses (normally 1 x 25ft plus 1 x 50ft hose set) will cover you for nearly all domestic properties.
If you are looking at running a top-of-the-range machine direct-from-the-van, we recommend 1 x 25ft 1.5″ hose set, plus 2 x 50ft 2″ hose sets (so 125ft in total).
Using 2″ vac extension hoses on longer hose runs will give you noticeably better performance.
What machine tools will I need?
As a minimum, you will need a carpet wand and a basic hand tool. The 2-jet s-bend wand is by far the most popular type of carpet wand and the wand we recommend.
The 4″ Westpak hand tool is a good quality stainless steel tool that can be used for stairs, edges, and any fiddly bits the wand can't reach. It can also be used for upholstery cleaning.
If your budget allows, take a look at the top-of-the-range Sapphire Upholstery Pro and Rotovac Sheardry upholstery tools. These are expensive tools; but give you very fast drying times, faster cleaning and also prevent over-wetting.
What training do I need? 
Whatever professional carpet cleaning machine you go for, if you are new to carpet cleaning you are going to need some training.
Professional machines will give you professional results, but only if you know how to use them properly.
You need to be able to identify what you are cleaning and know how to clean it. In fact, often it's often more important to know how not to clean it.
It's very easy to damage a carpet with a professional machine if you don't know what you are doing!
Does the machine come with training? Can the supplier offer on-going specialist support in carpet cleaning? Does the supplier have staff on-hand who have actually worked as professional carpet cleaners and can offer you the right advice when you need it?
Recommended professional carpet cleaning machines
Entry level professional carpet cleaning machines:
For professional results, the minimum spec we recommend is at least 130psi water pump pressure and 2 x 3-stage vacuum motors.
Expect to pay around £1800 to £2500 + VAT for entry level professional carpet cleaning machines.
Check out the Airflex Pro, Airflex Mini or Airflex Miniflex and select the 130 or 220psi pump options with dual vac motors. Also check out the Prochem Steempro Powermax or Prochem Steempro Powerplus
Mid-range carpet cleaning machines:
Mid range professional carpet cleaning machines (2 x 3-stage vac motors, 300-800psi pump) clean carpets faster and with less effort. The 600 to 800psi machines can also be used to power-clean hard floors.
Expect to pay around £2200 to £3000 + VAT for a mid-range professional carpet cleaning machine.
Check out the Airflex Miniflex LX 400psi or an Airflex Pro with 400psi to 800psi pump option, or the Prochem Endeavour
Top-of-the-range carpet cleaning machines:
Top-of-the-range professional carpet cleaning machines (e.g. Airflex Storm or Miniflex HX), clean much faster, with faster drying and can also run long hoses direct from the van, with auto-fill, remote control and auto-empty options available.
Expect to pay around £2750 to £4500 + VAT for a top-of-the-range portable carpet cleaning machines.
Starter packages
If you're starting a new business, don't forget you will need to budget for chemicals, accessories and possibly some extra equipment, as well as the carpet cleaning machine itself.
We have pre-built recommended starter packages at various price points you can see here. Our starter packages include everything you need to get started, but if there are any items you want to add on or take off, just let us know and we can build a custom starter package for you.
If you'd like more info on our starter packages, or help building a starter package, just contact us and we will be happy to help.
Free professional carpet cleaning training course
There's a free professional training course included with all our professional carpet cleaning machines over £1000.
Browse our range and you will find lots of info on our range of machines. Please don't hesitate to contact us if you have any questions.
We also supply complete starter packages, which will give you a good idea of some of the other things you may need as well as the professional carpet cleaning machine itself.